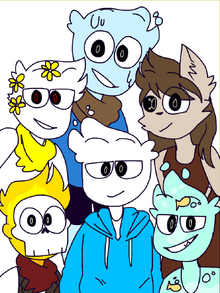 (The Bart Squad is not an account, it's a group of drawcast users.)
The Bart Squad consists of:
FlowerChildd
xanax
sugarspace
🍃PHEONIX🍃
LemonShank
Pyrokoi
SwapSans
Aleriano
Meowstix
(If you are in the Bart Squad, and you aren't included, OR you changed accounts, please add/change your name.)
The Bart Squad was founded by FlowerChildd (?) in June/July of 2016, but the first bart was xanax, whos bartsona, Cloud, was created before bartsonas were a thing.
Main Barts
Main Barts are users who have a bartsona that are most active in the Bart squad.
🍃PHEONIX🍃
LemonShank
GatorGar
Barts not listed are side Barts, Barts that aren't too active in the Bart squad.
Community content is available under
CC-BY-SA
unless otherwise noted.